B.Com education started in the year 1993 with the following objects:
i) To provide commercial education.
ii) To enhance the quality of human resource of rural and tribal chinchani and its vicinity
iii) To cater the human resource requirement of Tarapur MIDC
iv) To encourage entrepreneurship
                B.Com graduation program started with just 20 students has now reached to more than 500 students.
College offered M.Com post graduation program in the year 2004 with Business Management specialization and in the year 2005 with Advanced Accountancy specialization. P.L.Shroff college is the first college to start M.Com program in the region between Bordi to Borivali. The objectives of offering master programme in commerce are as follows:
i) To increase employability of the rural youth
ii) To encourage the professions like Tax consultant, Investment consultant, Management consultant etc.
iii) To encourage research culture
                M.Com program started with 10 students now reached to approx. 100 students.
Career Guidance –
11
th
Dec 2017 – Guest lecture on career in the field of Management, Accounting and Finance, Banking and Insurance, Govt. jobs etc and How to prepare for competitive Exams by Mr. Amol, a faculty from Career Launcher. 80 students from T.Y.B.Com attended this program.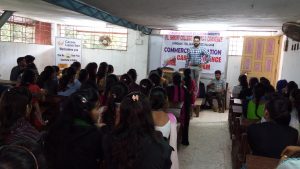 Industrial Visit –
25
th
January to 30
TH
January 2018 – visit at Chandigarh Simla to Panjab Chemical Ltd. with 35 students and 3 teachers Prof. Dr. S.V.Karvir, Prof. Parvin Kaladia and Prof. Ketal Kadu.
Seminar on GST – 17th Jan 2018 – Seminar on trends in taxation for commerce students by Mr. Mahesh Raut . 70 students attended this seminar and updated their knowledge.
Aptitude Test: Feb 2018 – To give practical experience of competitive exam, Aptitude Test conducted for T.Y.B.Com students in collaboration with Career Launcher.
Dr. S.V.Karvir got felicitated on International Woman's Day by Mahila Aaghadi, Thane
Inauguration of Commerce Association – 22
nd
August 2017 – Guidance lecture on role of educated people in solving the problems of society especially waste management by Chairman Mr. Rajanikant Shroff and Dr. Ramilaben Shroff.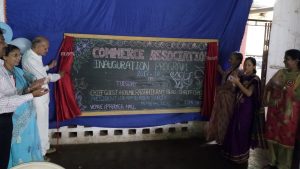 Book Review –
11
th
Sept 2017 – 17 students participated and reviewed the various books dedicated to successful businessmen. Prin. Dr. P.S.Raut guided students on Book Review.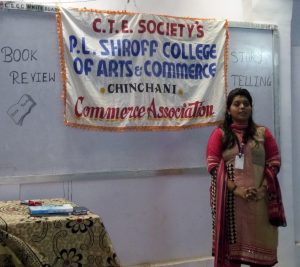 Essay Competition – Oct. 2017 – Essay competition on 1) Technological advancement & Entrepreneurship 2)Fantacy in Ads 3)Women Entrepreneurs in India. Seven students participated in this competition.
Certificate course on GST – 8
th
Jan to 13
th
Jan 2018 – Course conducted by Mr. Abhijit Joshi and Mr. Satish Gupta from Tally Academy on basic concepts of GST, changes in indirect taxes and some practical aspects for the T.Y.B.Com students. 66 students honoured with certificates.
Handwritting Competition – 17th Feb 2018 – Handwritting competition English language for commerce students. 20 students participated in this competition.
Enthra Fiesta – 21
st
Dec 2017 – Enthra-Fiesta is the special program of Commerce Association which is held every year to encourage entrepreneurial skill among students. This year it was organized at intercollegiate level. 7 Junior colleges from Chinchani, Boisar, Tarapur, Palghar and Dahanu participated in this festival.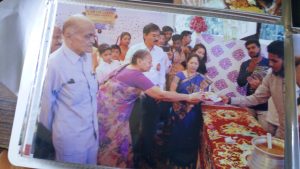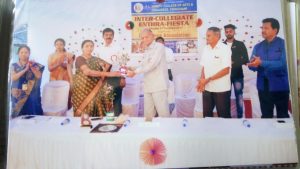 Commerce Teaching Faculties Dr. Suchita Vikas Karvir (H.O.D.) Prof. C.S.Ashtekar
M.Com, NET Prof. S.A.Bari
M.A.,B.Ed, M.Phil Prof. S.J.Bahare
M.A.,B.Ed Prof.Muchhale Gulam
M.Com, M.B.A Prof.Vandana Yadav
M.Com, M.B.A Prof. Ketal Kadu
M.A.,B.Ed Prof. Tejaswi Kumbhar
M.Com