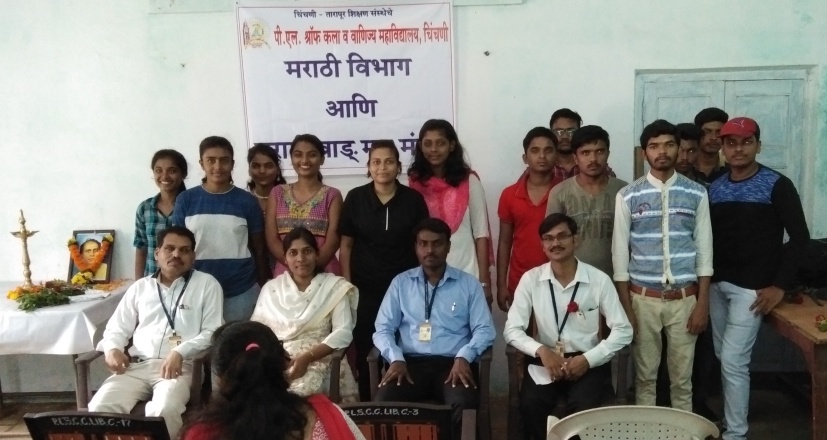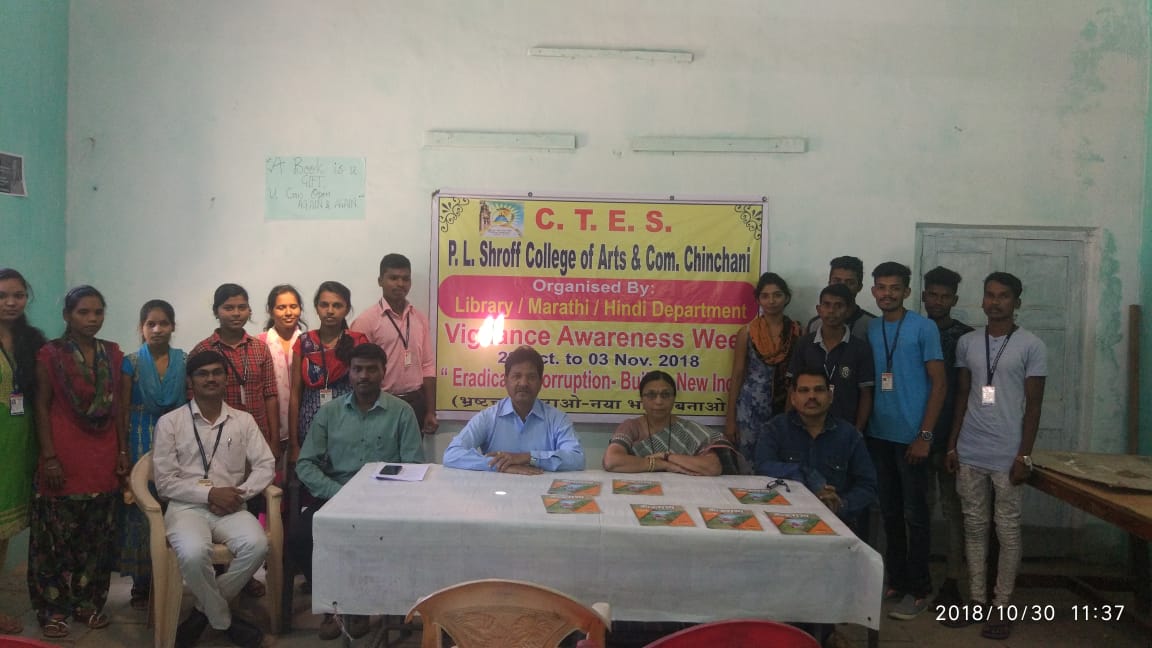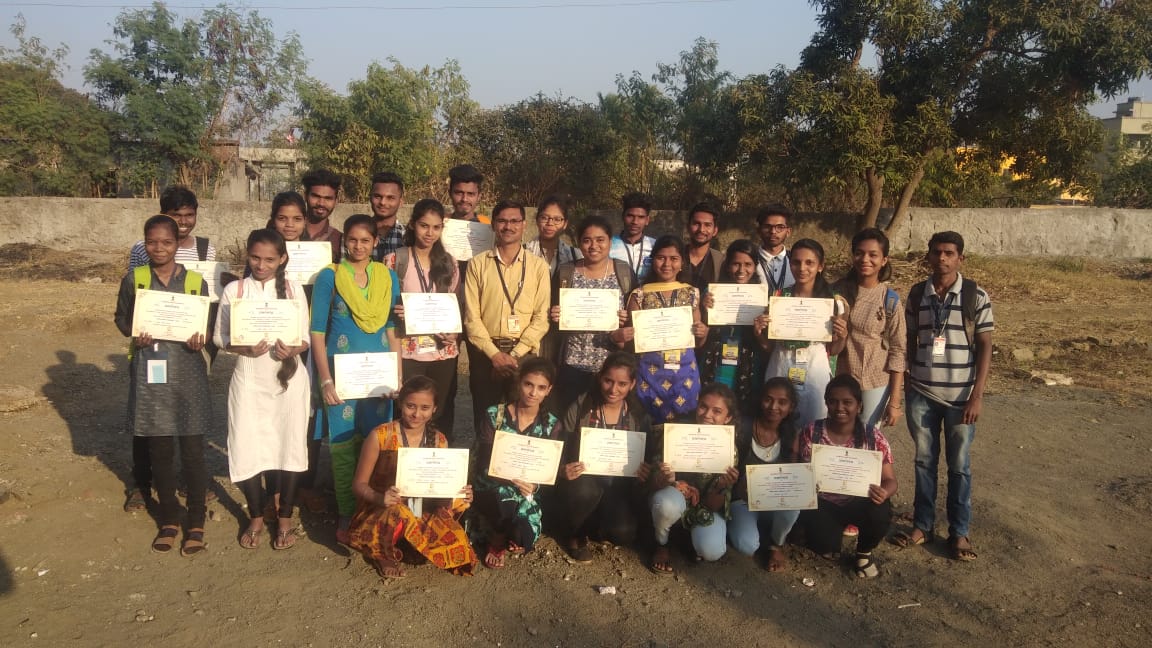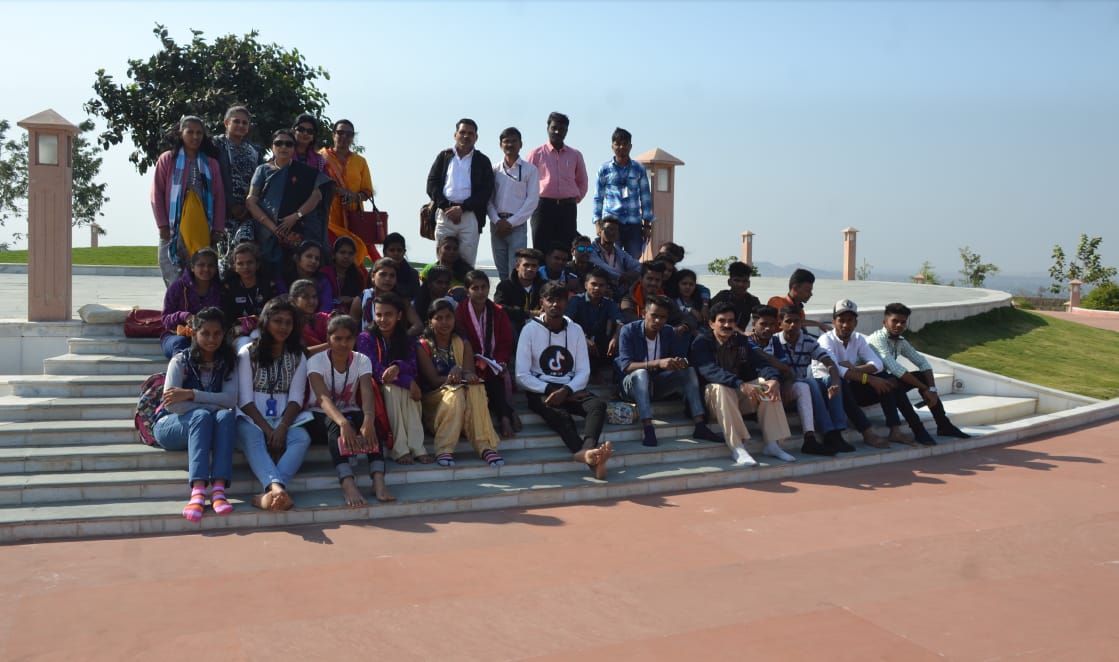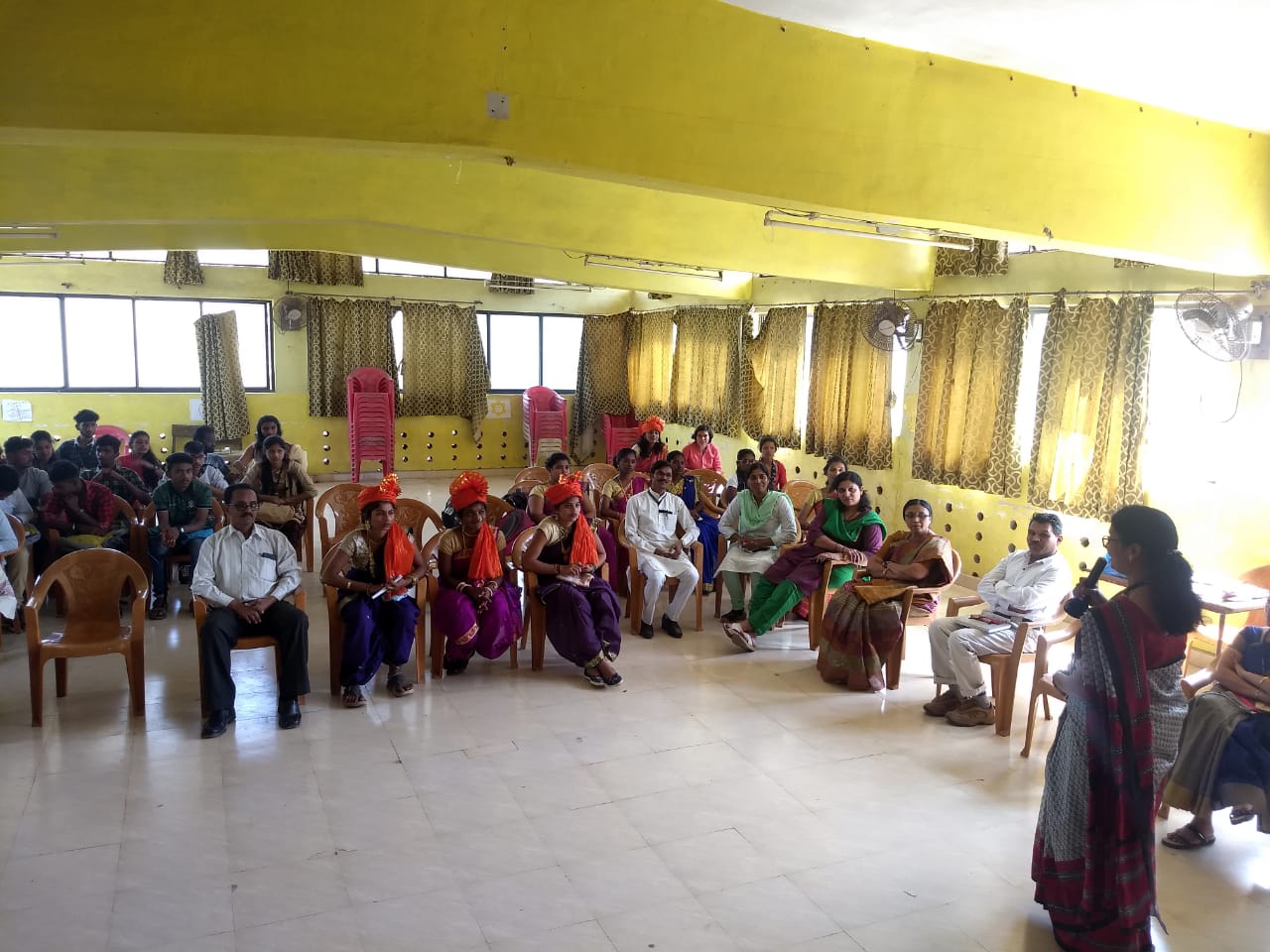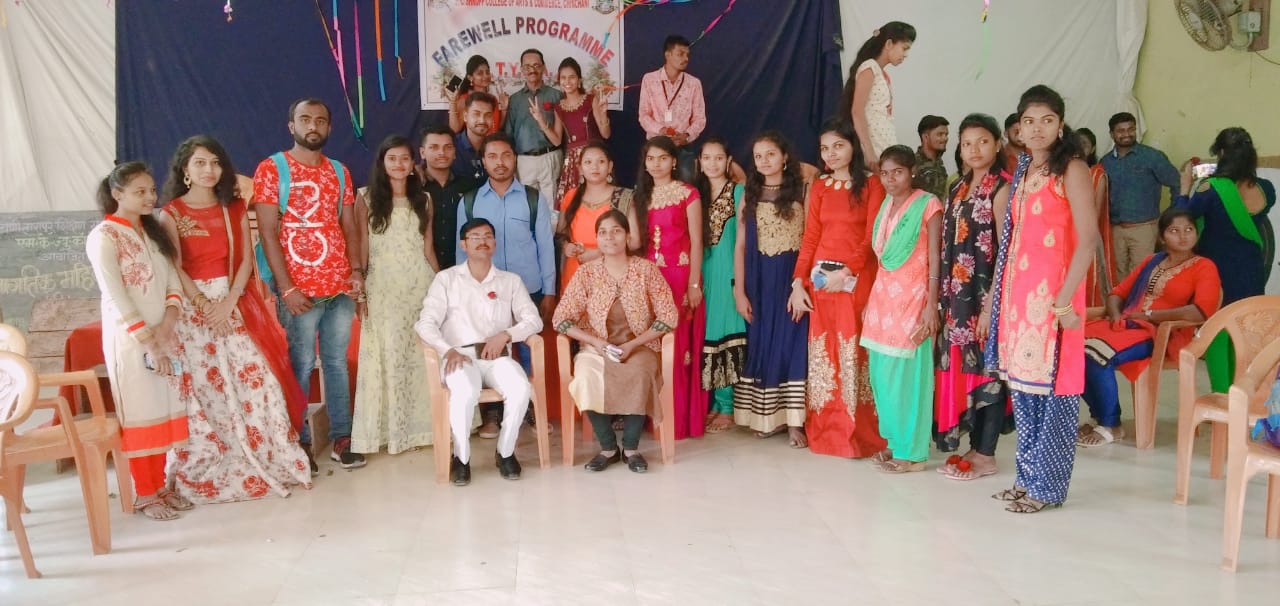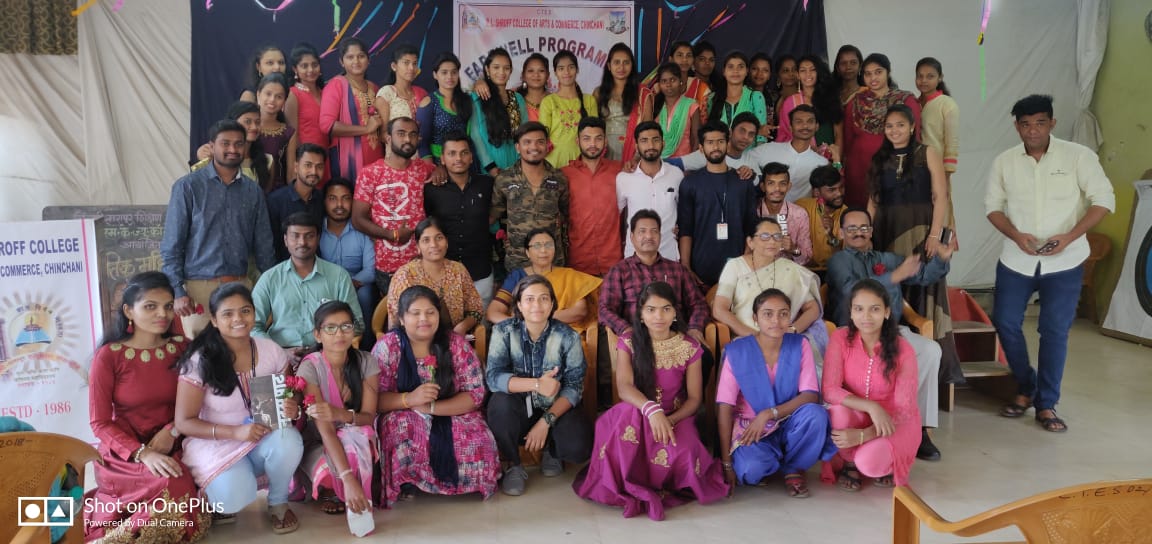 Anna Bhau Sathe Jayanti Program
Brashtachar Nirmulan Progam
Educational Trip at Gandhi Dham
Farewell Program of Marathi Dept.
Guest lecture on Marathi Bhasha Gaurav Samarambh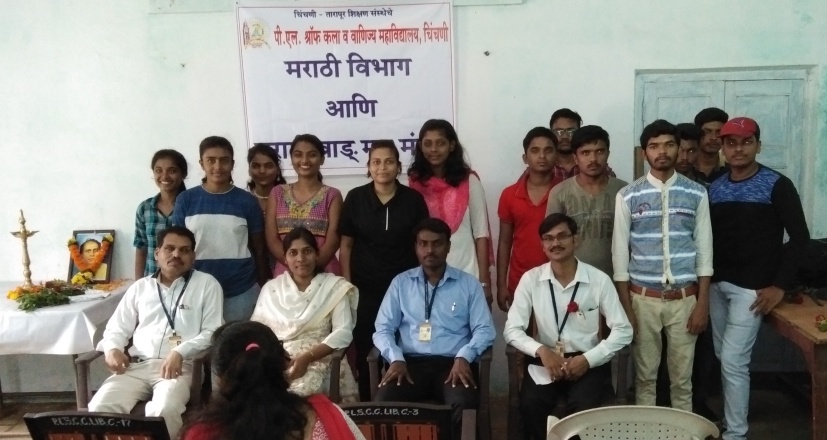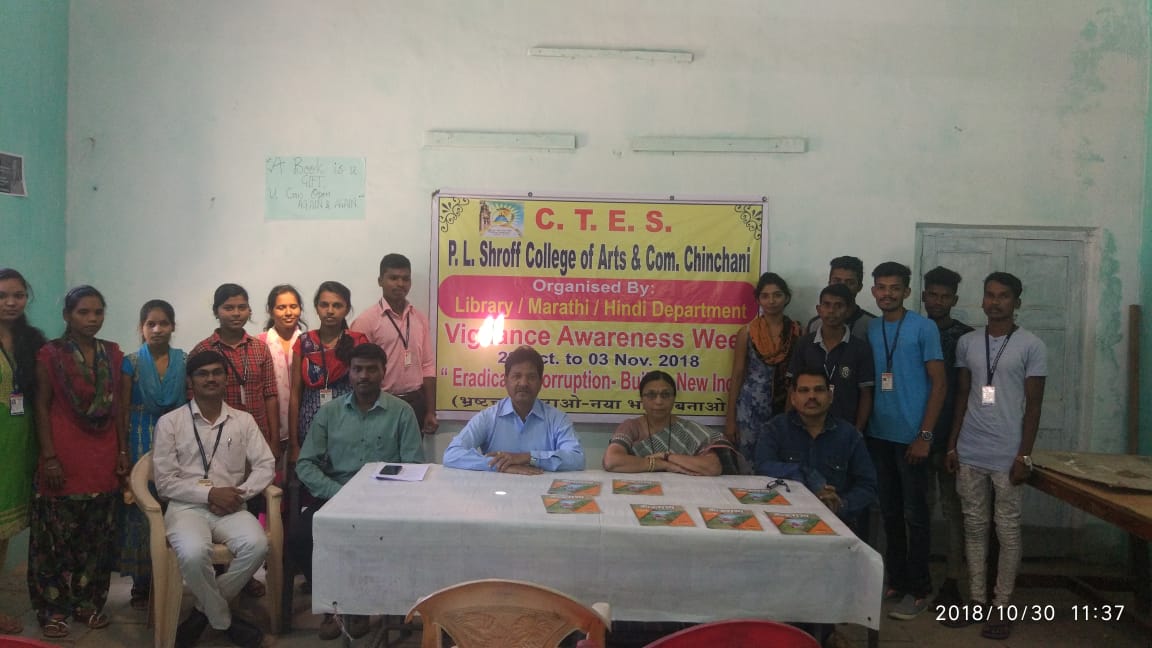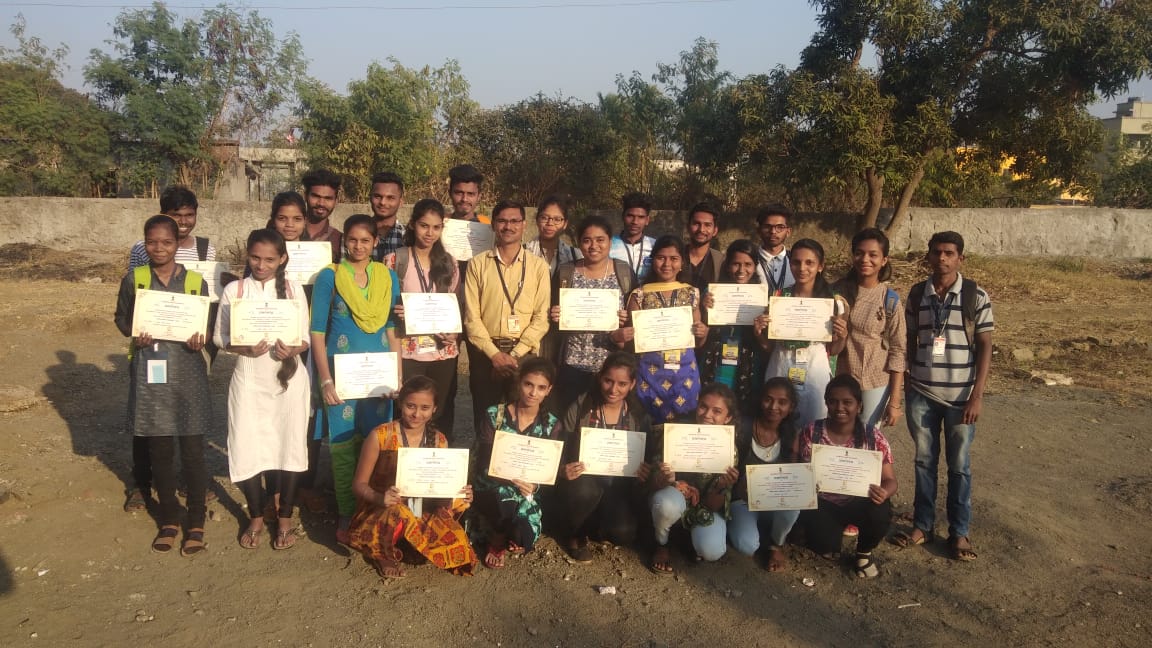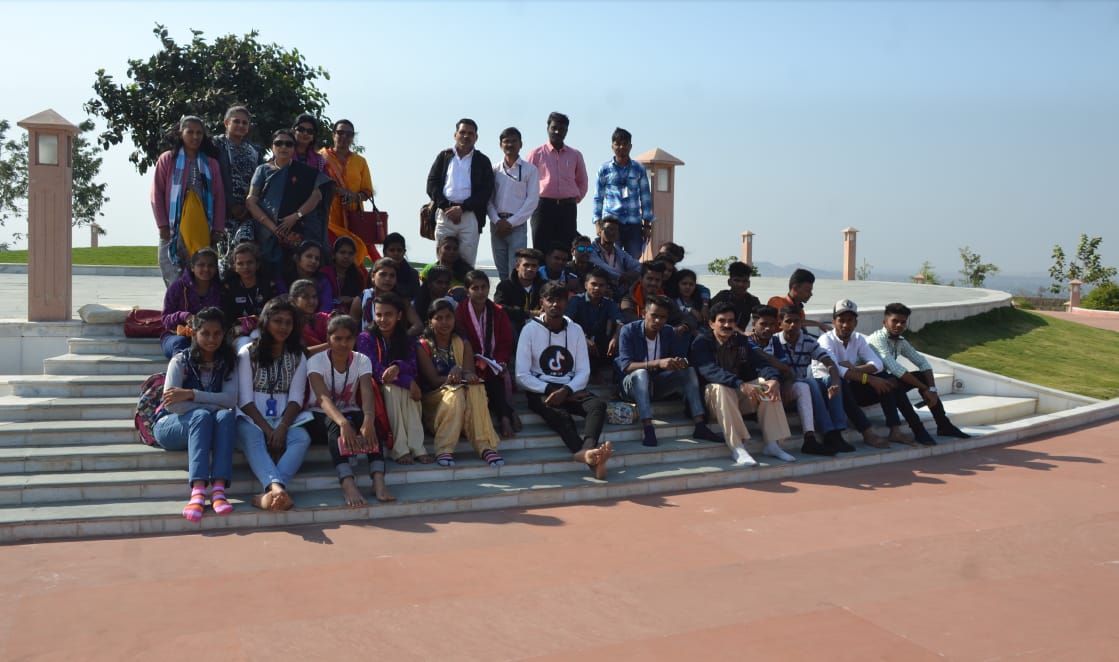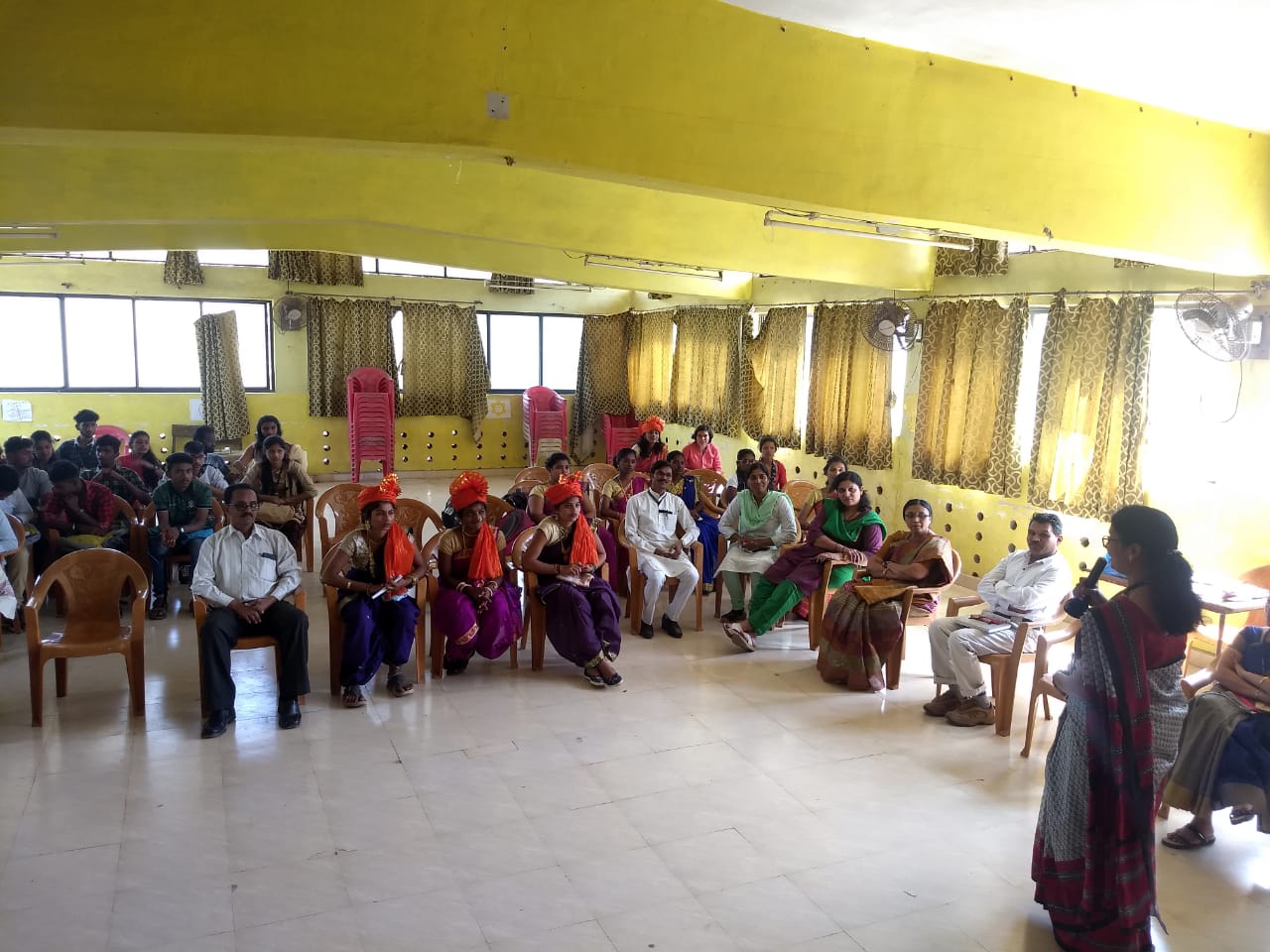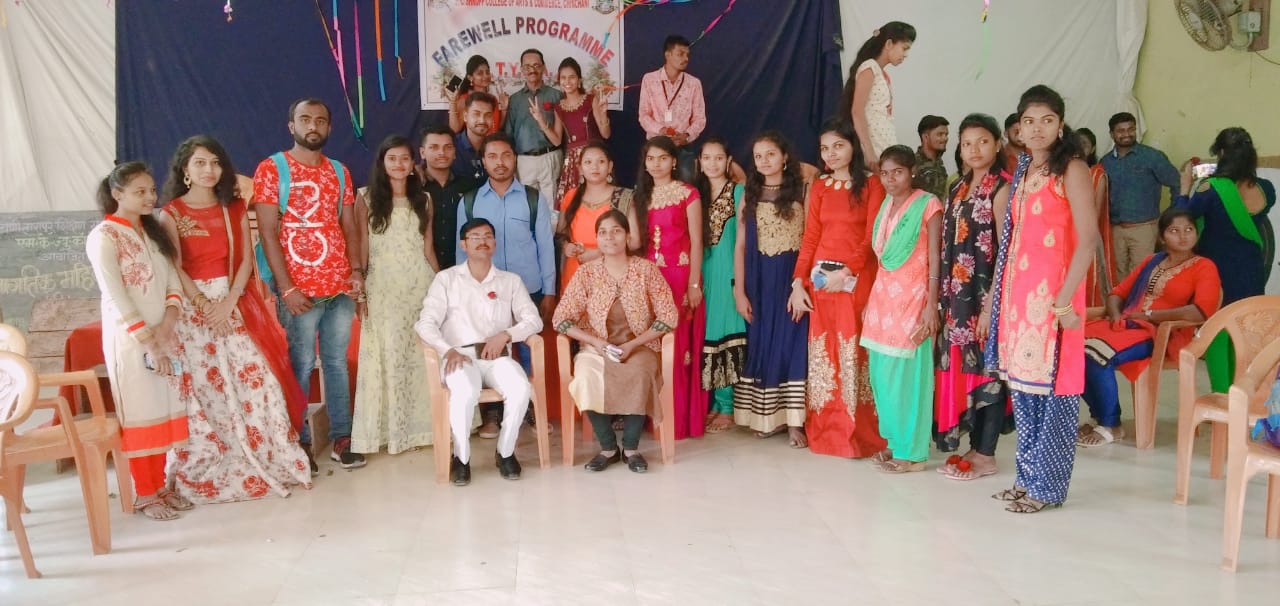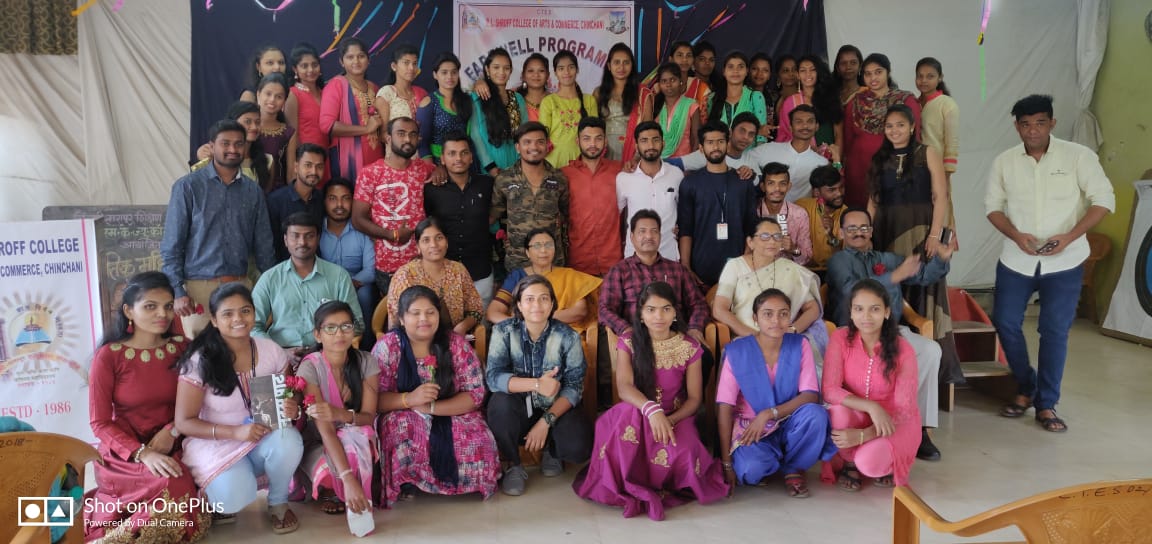 MARATHI  DEPARTMENT- B.A and M.A 
To provide the opportunity of graduation and post-graduation to the Arts faculty's students in Chinchani and its vicinity Special Marathi and Master of Arts Program started in our College. P.L.Shroff College of arts and commerce was Started M.A. MARATHI in the Academic year 2009-10.
RESULT-
Department has kept in record its record of achieving 100% result this year too.
Ist Rank – Smt- Kalyani shinde
II nd Rank – Miss Tanvi Tamore
III rd Rank – Miss – Samiksha More
Departmental Activities –
Department Of Marathi has organised various programme in the academic year 2018-19. in the beginning of the year International Indigenous Day  was celebrated with much fan-fare. Students from vicinity had displayed various items from Adivasi Culture, they performed Tribal Dance, Tribal paintings (Warli) adivasi Dialect Competition based on tribal culture was organised by Kala Academy, Marathi, Hindi department and Cultural Department. A unique exhibition of forest vegetables and food items also arranged on this day.
Various Competitions are held throughout the year. To enable literary sensibility among students. The department always strives to impart social, Cultural values among the students.
To promote Marathi Language and Marathi Literature Research aptitude Test, Marathi Language Conservation weekly.
Marathi Dept. Achievements
In Inter Collegiate Solo Acting Competition, Mr. Akshay Churi M.A.I has secured II Rank and also secured I Rank in story writing Competition in organisation by department of Marathi.
Toppers got the job various departments and established their identity.
Punam Pujari (Teacher)
Nisha Ravte (Indian postal service)
Nilam Fadawale (M.H.R.T.C.)
Tanvi Tamore (Teacher)
Bhupendra Patil (Teacher)
Samiksha More (Teacher)
Kalyani Shinde (Teacher)
Various Competition – Elocution Competition, Jap Marathicha, Kavyavachan, Geetgayan, Olakha pahu, Kavita lekhan, Katha lekhan, Nibandh lekhan.
Department had organised 04 days Educational trip to Jalgaon, Aurangabad, Ajanta, Yellora, Paithan, Yevla.
Marathi Bhasha Gaurav Program.
Various Dramas and movie Shows.
Marathi Dept. Teaching Faculties
Prof. Dr. Vanashri Phalake
M.A, M.Phil,Ph.D, NET,SET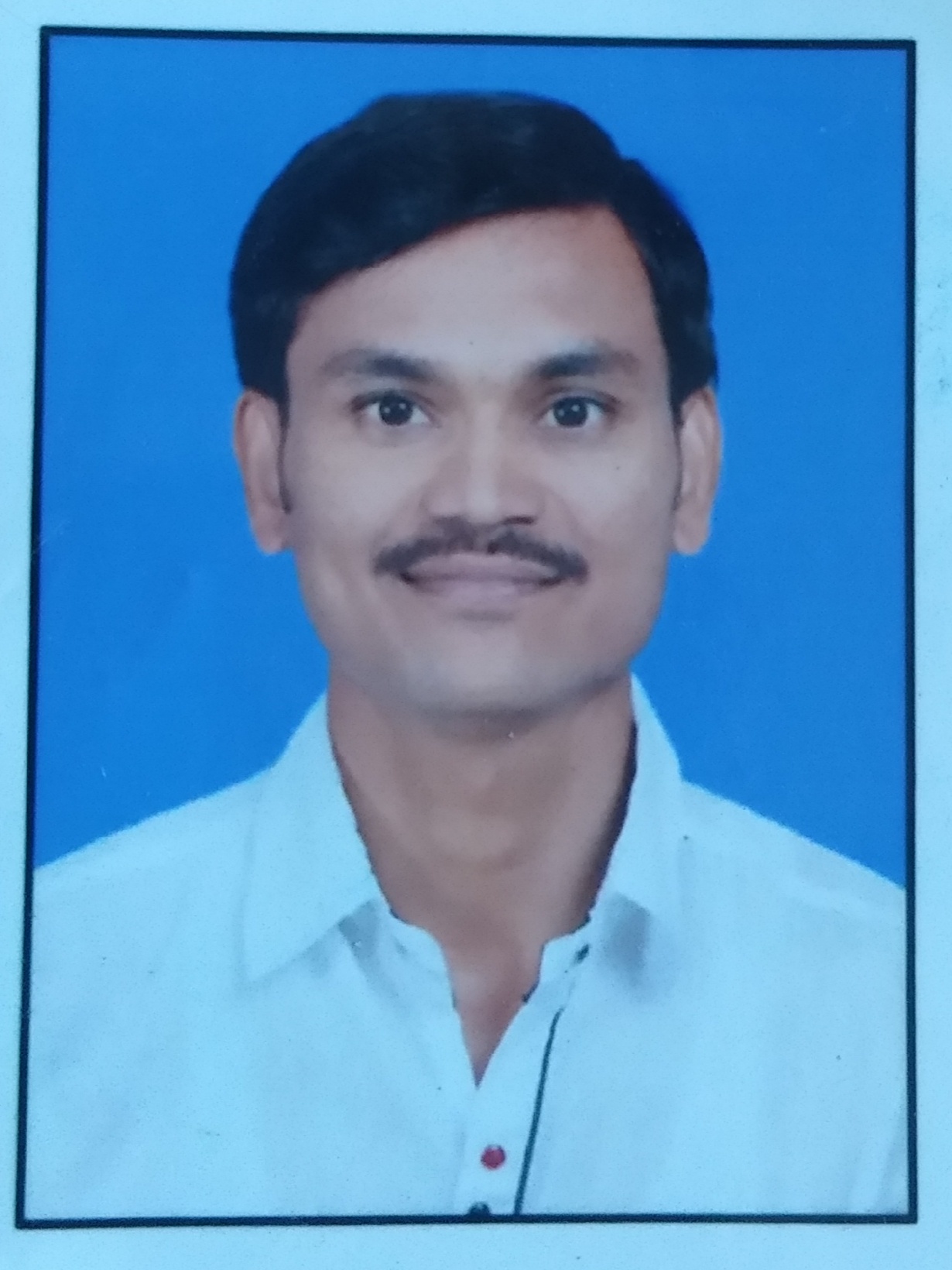 Prof. Dnyaneshwar Bhosle
M.A, M.Phil,SET Prof. Anuja Vartak
M.A, B.Ed