SHRI P. L. SHROFF COLLEGE OF ARTS AND COMMERCE CHINCHANI
NATIONAL CADET CORPS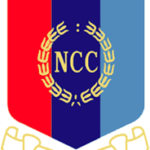 The 'National Cadet Corps'  is the largest uniformed youth organization of India.  The NCC in India was formed the National Cadet Corps Act of 1948. It can be traced back to the 'University Corps', which was created under the Indian Defense Act 1917, with the objective to make up for the shortage in the Army. A committee headed by H N Kunzru recommended a cadet organization to be established in schools and colleges at a national level. The National Cadet Corps Act was accepted by the Governor General and on 15 July 1948 the National Cadet Corps came into existence. In November 1948, the Girls Division was raised in order to give equal opportunities to school and college going girls.
 The NCC was given an inter-service image in 1950 when the Air Wing was added, followed by the Naval Wing in 1952. In the same year, the NCC curriculum was extended to include community development/social service activities as a part of the NCC syllabus at the behest of Late Pandit Jawaharlal Nehru who took keen interest in the growth of the NCC.
The National Cadet Corps in India is a voluntary organisation which recruits cadets from high schools, higher secondary, colleges and universities all over India. The Cadets are given basic military training in small arms and parades. The officers and cadets have no liability for active military service once they complete their course.
The National Cadet Corps is headed by a Director General, an Army Officer of the rank of Lieutenant General, who is responsible for the functioning of the National Cadet Corps in the country through the National Cadet Corps Headquarters situated at Delhi. At the State Level, the country has been divided into 17 Directorates covering all States and Union Territories. Each of the State National Cadet Corps Directorate Headquarters controls two to fourteen Group Headquarters. While Directorates are commanded by Brigadiers or their equivalents, the Groups are commanded by Colonels or equivalents from the Air Force and the Navy, NCC Units are commanded by Major/Lieutenant Colonel or their equivalents.
MOTTO OF NCC : "Unity and Discipline" is the motto of National Cadet Corps.
AIMS OF NCC:
1.    To develop character, comradeship, discipline, a secular outlook, the spirit of adventure and ideals of selfless service amongst the youth of the country.
2.    To create a human resource of organized, trained and motivated youth with leadership qualities in all walks of life and always available  for the  service of the Nation.
3.    To provide a suitable environment to motivate the Youth to take up a career in the armed forces.
ESTABLISHMENT OF NCC IN P. L. SHROFF COLLEGE CHINCHANI:
Prof. Deepak D Shelar was appointed as a lecturer in Economics on 10th Jan. 1989. As per the strong willingness of Chinchani Tarapur Education Society's Chairman Shri Rajanikant Shroff, Prof Deepak Shelar took various efforts to raise the NCC unit in College.  He met former Education Minister late Shri Vilasrao Deshmukh, Vice Chancellor Dr. Mehru Bengali, Tribal Minister Shri. Shankar Nam, Army officers NCC Mumbai and other dignitaries to raise NCC Unit in college. Only because of Prof. Deepak Shelar's continuous efforts, finally P. L. Shroff College has got permission to start Boys NCC Unit in College in June 1993. College NCC unit is under 6. Maharashtra BN. SD NCC Mumbai 'A' group
Prof. Deepak Shelar is the first NCC Officer in P. L. Shroff College, after successfully completing four NCC Training Courses in Kamptee Nagpur, he was awarded by the rank of Major. During 1993 to 2016 Maj. Deepak Shelar has actively participated in following National Level NCC Camps as a Maharashtra Contingent Team In charge
| | | | |
| --- | --- | --- | --- |
| S.N | NAME OF THE CAMP | DURATION | PLACE |
| 1. | Combined ATC Camp | 10th Nov to 20th Nov 1995 | Chinchani |
| 2 | Army Attachment Camp | 08 Nov. to 23rd Nov.1996 | Nasik Artillery Centre |
| 3 | All India Shivaji Trekking Camp | 6th Dec. to 19th Dec 1999 | Kolhapur (Mah) |
| 4 | National Integration Camp | 10th Nov. to 22  Nov.2001. | Gulbarga (Karnataka) |
| 5 | National Integration Camp | 15th – 30th Nov. 2002. | Kapal Mochan (Hariyana) |
| 6 | National Integration Camp | 20th Dec. to 31st Dec.2003 | Wayanad (Kerala) |
| 7 | Adventures 'Parasailing Camp' | 22nd June to 2nd July 2004. | Chinchani (Mah) |
| 8 | National Integration Camp | 22nd Dec. to 2ndJan.2006. | Mughalsarai (UP)  |
| 9 | National Integration Camp | 20th Dec. to 31st Dec. 2010 | Udaipur (Rajasthan) |
| 10 | All India Trekking Camp | 30th Oct to to 15th Nov. 2011 | Belgaum (Karnataka) |
As per NCC rules regarding age bar as a NCC Officer, Maj. Deepak Shelar is retired from NCC .
And Prof. Prakash Sonawane has been appointed as a NCC Officer in 2016, after completion of three months pre Commission Training in Nagpur he is awarded by the rank of Lieutenant in Feb. 2020
GIRLS NCC UNIT:
Because of  college request and best performance of Boys NCC Unit, NCC Head Quarter Mumbai has permitted  our college to raise girls NCC unit in June 2004 under 5 Maharashtra BN. SW NCC Mumbai 'A' group.  Prof Padma Mane ( Junior College)  was appointed as a Lady NCC Officer till 2013. Lt. Padma Mane was attended various camps.
After regular appointment of Prof Vanashri Phalake in Senior College in June 2014, she was appointed as a NCC Officer for senior college girls unit. Now she is having a rank of Lieutenant and attended following NCC Camps.
1. Annual Training Camp: 3rd June to 12th June 2019 in Mumbai
2. Annual Training Camp: 17th Oct. to 26th Oct 2019 in Mumbai
Prof. Dr. Maj. Deepak D Shelar Vice Principal, IQAC Coordinator
Chief Minister Scholarship –C.S.M. Preanali Patil
Republic Day Camp- Ist camp Ghatkopar-Sarjent Sonali Bharat Kashid
Republic Day Camp- IInd camp Ghatkopar-Sarjent Sonali Bharat Kashid
Republic Day Camp- IIIrd camp Ghatkopar-Sarjent Sonali Bharat Kashid
Republic Day Camp- IVth camp (I.G.C) Pune-Sarjent Sonali Bharat Kashid
National Integration Camp Aurangabad S.U.O.Sonali Choudhari and J.U.O. Payal Kotangale.
National Integration Camp Hrushikesh L.C. Geetanjali Pagdhare
Disaster Management Skit Play In Palghar District (35 places) – participate cadets L.CPL.Geetanjali Pagdhare and Anisha Pagdhare
Cadets got the job Police Department and established their identity. Sapana Thakur,Pranali More…
Department Of NCC has organised various programme in the academic year 2018-19.
21 June 2018- International Yoga Day
30 July 2018 – Tree Plantation
07 Aug 2018 – Adopt Tree Plant.
01 Sept 2018 -Tree Plantation
15 Sept. to. 30 Sept. 2018 – Swacha Bharat Pakwada
21 Sept. 2018 – Disaster Manangement and Fire Safety
30 Oct.2018 -Student Motivational Lecture
09 Oct.2018 – Self Defence Program
Also Department had organised 01 days Social Educational trip to DIVYA VIDYALAYA JAVHAR.