Inauguration of Commerce Association – 22
nd
August 2017 – Guidance lecture on role of educated people in solving the problems of society especially waste management by Chairman Mr. Rajanikant Shroff and Dr. Ramilaben Shroff.
Book Review –
11
th
Sept 2017 – 17 students participated and reviewed the various books dedicated to successful businessmen. Prin. Dr. P.S.Raut guided students on Book Review.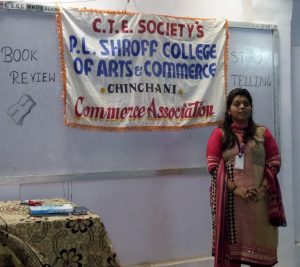 Essay Competition – Oct. 2017 – Essay competition on 1) Technological advancement & Entrepreneurship 2)Fantacy in Ads 3)Women Entrepreneurs in India. Seven students participated in this competition.
Certificate course on GST – 8
th
Jan to 13
th
Jan 2018 – Course conducted by Mr. Abhijit Joshi and Mr. Satish Gupta from Tally Academy on basic concepts of GST, changes in indirect taxes and some practical aspects for the T.Y.B.Com students. 66 students honoured with certificates.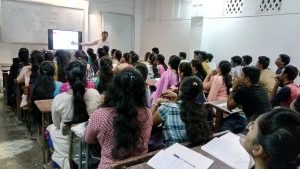 Handwritting Competition – 17th Feb 2018 – Handwritting competition English language for commerce students. 20 students participated in this competition.
Enthra Fiesta – 21
st
Dec 2017 – Enthra-Fiesta is the special program of Commerce Association which is held every year to encourage entrepreneurial skill among students. This year it was organized at intercollegiate level. 7 Junior colleges from Chinchani, Boisar, Tarapur, Palghar and Dahanu participated in this festival.